A Brief Timeline of

Black Higher Education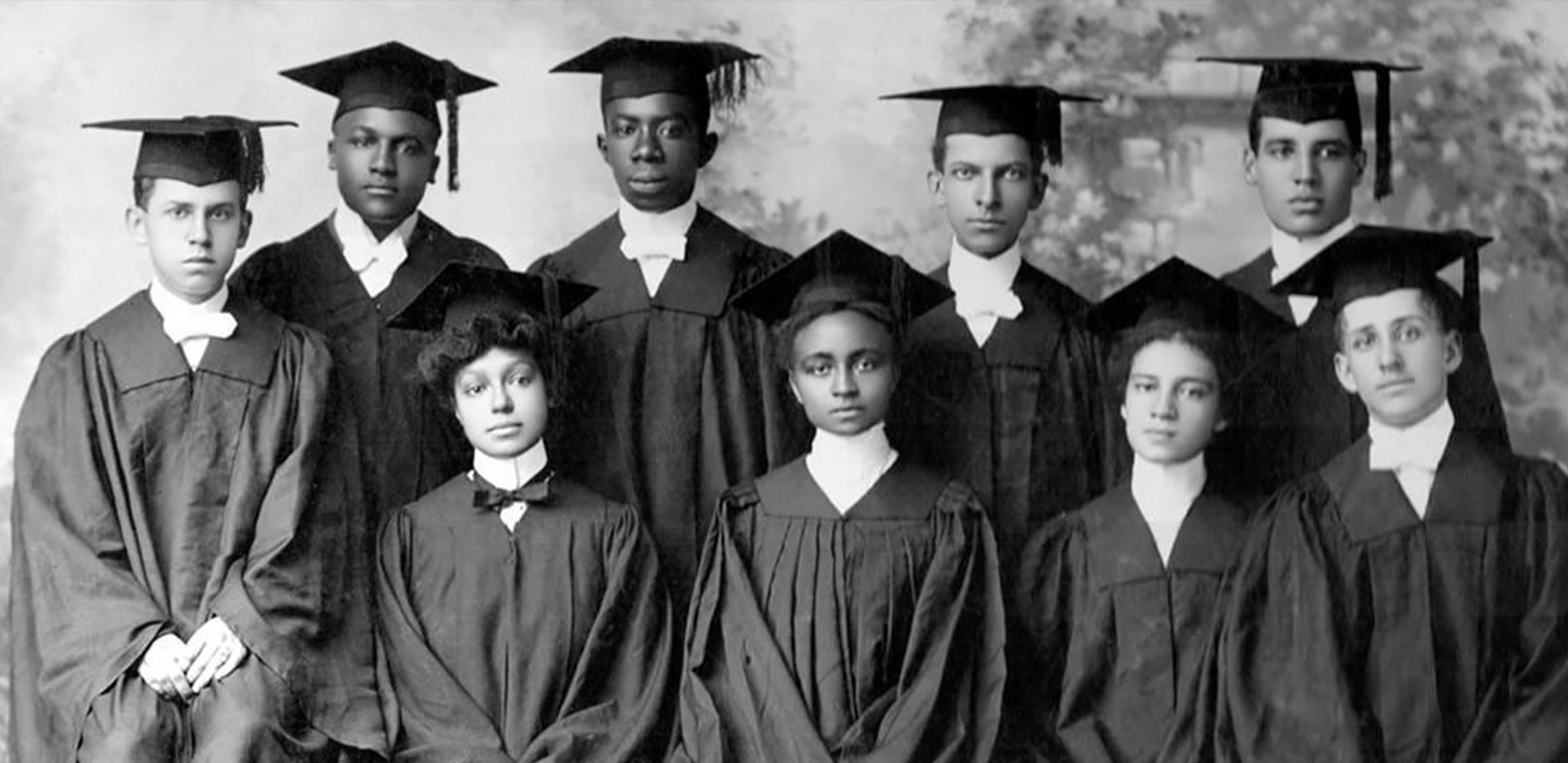 For centuries, Black higher education and educational institutions have built an astounding history of contributing, of over-delivering while being systematically under-resourced, of making remarkable progress to advance equity while they, themselves, had to confront real inequities. It's a legacy of which we can all be proud.
1619

First enslaved Africans arrive in British North America.

1636

Harvard, nation's first college, established.
For the next 200 years,

Black people excluded

from higher education.
1800s
A century of firsts

for Black colleges.
1823

Alexander Lucius Twilight, first Black college graduate in America.

1837

First Black institute founded, Institute for Colored Youth (Cheyney University).

1854

Lincoln University of Pennsylvania becomes the first degree-granting HBCU.

1856

First Black, private HBCU founded, Wilberforce University.

1863

Emancipation Proclamation is signed.

1870

Seven Black colleges and 13 teaching schools established by American Missionary Association and Freedmen's Bureau.

1890

Second Morrill Land-Grant Act forbids exclusion of Black people in state higher education systems.
1900s
Black colleges

help descendants of

the enslaved progress.
1928

Association of Colleges and Schools begins to accredit Black colleges & universities.

1944

United Negro College Fund created.

1954

U.S. Supreme Court hands down the Brown v. Board of Education decision.

1965

U.S. Higher Education Act officially recognizes HBCUs and provides them dedicated federal funding.

1972

UNCF launches "A mind is a terrible thing to waste."

1972

Adams v. Richardson decision orders 10 states in violation of the Civil Rights Act to integrate schools, but not at the expense of HBCUs.

1980

President Carter establishes White House Initiative on HBCUs.

1987

Thurgood Marshall College Fund established.

1999

UNCF administers Gates Millennium Scholars Program.
2000s
ICB accelerates

institutional

transformation.
2003

Supreme Court rules affirmative action admissions constitutional. Photo credit: PBS

2006

UNCF establishes the Institute for Capacity Building.Photo credit: Andrew Huth

2007

ICB launches Fiscal and Strategic Technical Assistance Program (FASTAP).Photo credit: Andrew Huth

2008

ICB launches first Institutional Advancement Program.
2009

The first inauguration of Barack Obama as the 44th president of the United States.
2009

ICB launches Green Building Initiative.

2010

ICB launches Digital Media and Learning in Multicultural Contexts Public Forum Series. Photo credit: Andrew Huth

2011

ICB releases Enrollment Management Best Practices Guide: A Model for Success.

2013

Claflin University's alumni giving hits an all-time high of 52.2%.

2014

Black Lives Matter expands in response to increased police brutality. Photo credit: Austin Chronicle

2015

ICB receives groundbreaking grant to implement the Career Pathways Initiative.

2017

ICB conducts national study on student careers. Photo credit: Andrew Huth

2019

ICB launches the Strategic Finance Institute. Photo credit: Andrew Huth

2019

ICB establishes Executive Leadership Institute. Photo credit:Andrew Huth
2020

COVID pandemic hits Black communities disproportionately hard.

2020

ICB develops lifelong learning partnership strategy with Harvard and Lightcast.

2020

BLM protests spread nationwide following police murder of George Floyd. Photo credit: Watch The Yard

2020

HBCUs and UNCF receive record high donations. Photo credit: Andrew Huth

2020

ICB joins national effort to support excluded populations.

2020

ICB launches online professional development in response to the COVID pandemic.

2020

ICB expands transformation network to eight HBCUs and PBIs.
2021

Howard University alum Kamala Harris, first HBCU graduate to be sworn in as Vice President of the U.S.

2021

ICB launches mental health partnership with Steve Fund. Photo credit: Andrew Huth

2021

ICB, Excelencia in Education and the Coleridge Initiative partner to enhance data capacity at HBCUs and HSIs. Photo credit: Andrew Huth

2022

ICB receives funding to support transformation at seven HBCUs.

2022

ICB announces launch of HBCUv to reimagine online learning. Photo credit: Andrew Huth

2022

UNCF and Thurgood Marshall College Fund announce HBCU Transformation Project, a joint effort.

2022

ICB selected among six organizations for Intermediaries for Scale national transformation effort.