Coming Together for HBCU Student Success Excellence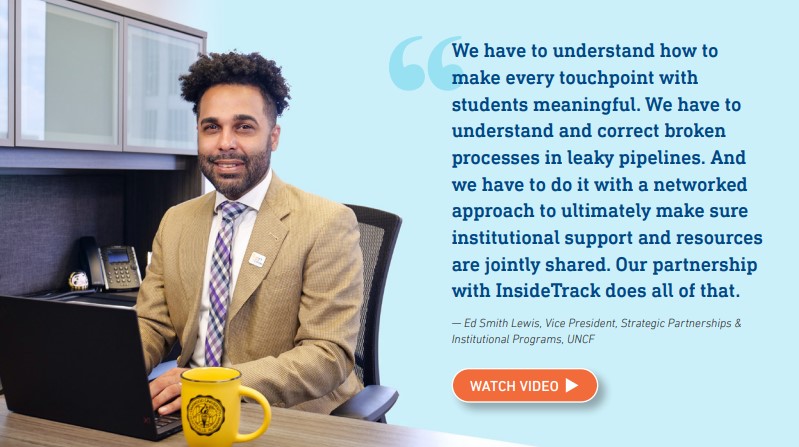 The United Negro College Fund (UNCF) established its Institute for Capacity Building (ICB) in 2006 to help the organization's HBCUs and PBIs sustainably build capacity and improve admission, retention and graduation rates. So when the ICB received student feedback during the pandemic that they needed more wraparound support to stay on track in school, the ICB searched for a partner who could collaborate with them to holistically address these needs — and chose InsideTrack.
The partnership began with a re-enrollment pilot initiative, in which InsideTrack collaborated with nine UNCF HBCUs and PBIs to bring stopped-out students back to school. The benchmark re-enrollment rate was set at 4% — and, through direct, one-to-one coaching and proactive outreach, InsideTrack doubled the expected goal, with a final pilot re-enrollment rate of 8.6%.
This pilot success sparked what is now a multi-phase, multi-year partnership that will bring re-enrollment, enrollment and retention coaching, as well as capacity building to even more Black colleges and universities. So far, 17 institutions have benefited from the UNCF & InsideTrack re-enrollment coaching program: Benedict College, Bethune-Cookman College, Claflin University, Clark Atlanta University, Dillard University, Florida Memorial University, Jarvis Christian University, Johnson C. Smith University, Lane College, Martin University, Morehouse College, Philander Smith University, Stillman College, Talladega College, Voorhees University, Wilberforce College and Wiley College.
Read the full case study on the pilot initiative and watch videos featuring ICB's Ed Smith-Lewis, Julian Thompson and Aja Johnson on the InsideTrack website.