Growing Capacity to Leverage Big Data is Advancing Equity in Higher Education; UNCF and Excelencia in Education Continue to Lead the Way 
Over 40 faculty and staff from HBCUs and HSIs completed training on the Administrative Data Research Facility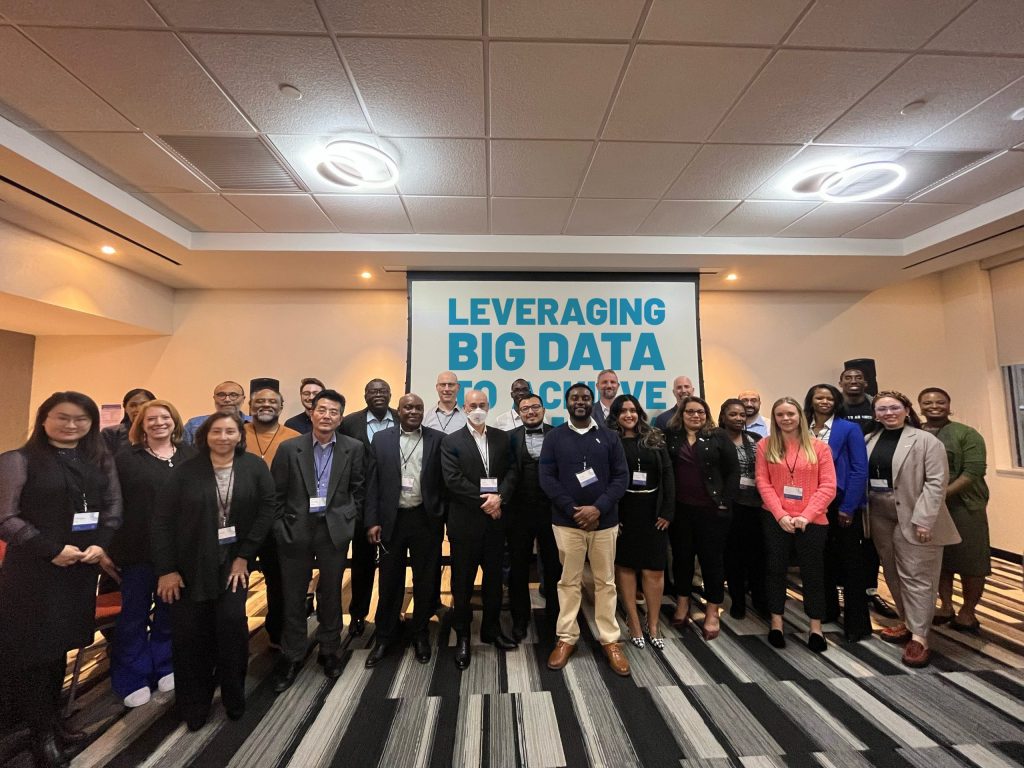 [Contact: Roy Betts, UNCF Communications; 240-703-3384; roy.betts@uncf.org]
ATLANTA, Jan. 20, 2023 – Today, UNCF (United Negro College Fund) and Excelencia in Education announced the successful conclusion of Leveraging Big Data to Achieve Equity, an initiative designed to enhance research capabilities at historically Black colleges and universities (HBCUs) and Hispanic-Serving Institutions (HSIs) funded by the Bill & Melinda Gates Foundation.
Through the initiative, over 40 HBCU and HSI faculty and staff members completed training in a three-cohort program, facilitated by UNCF and partner organization Excelencia in Education. Leveraging the Administrative Data Research Facility, a platform developed by Coleridge Initiative to promote access and discovery of microdata from federal agencies, trainings were led by both Coleridge Initiative and representatives from participating institutions.
"Big data is already a game changer in higher education, but for too long Black colleges and universities have not had access to the systems that lead to policy changes," said Ed Smith-Lewis, UNCF vice president of strategic partnerships and institutional programs and leader of UNCF's Institute for Capacity Building (ICB).
"What UNCF is seeking to do is ensure HBCUs and other minority-serving institutions are positioned to drive projects that create new knowledge and understanding about the effectiveness of higher education," Smith-Lewis said.
"Our partnership with UNCF is a demonstration of what is possible when we invest in and prioritize the capacity of faculty to lead research that can transform higher education for students of color," said Deborah Santiago, CEO and co-founder of Excelencia in Education. "Creating research opportunities for faculty at the institutions educating the majority of our Hispanic and Black students should be a national priority," Santiago said.
Over the last 18 months, Leveraging Big Data to Achieve Equity forged a new community of faculty at HBCUs and HSIs who are now more expert in accessing and producing research using federal database systems, training other faculty on the use of the platform, and strengthening the research partnerships at their respective institutions.
Faculty and staff from eleven institutions completed the program, including representatives from HBCUs (Clark Atlanta University, Dillard University, Morehouse College, Morehouse School of Medicine, Morgan State University, Shaw University, and Spelman College), and HSIs (California State University-Northridge, California State University-Sacramento, University of Central Florida and University of Texas at San Antonio). The Atlanta-based HBCUs were coordinated by the Atlanta University Center Consortium.
Smith-Lewis emphasized the significant role Leveraging Big Data to Achieve Equity initiative has played in building awareness around the need for increased HBCU engagement and leadership in postsecondary and workforce research.
"The purpose of this initiative is to help change perceptions about who can and should participate in the key research efforts that help shape the future of higher education," he said. "Through this effort, we have demonstrated that HBCUs and HSIs are ready to help the higher education field ask better questions, develop more inclusive constructs, and create the research and evaluation knowledge that will help us achieve a more equitable future."
Dr. Tiffany Oliver, associate professor and chair of the Department of Biology at Spelman College, participated in the trainings and later served as an instructor.
"We need to keep pushing for disenfranchised and excluded groups to tackle educational inequities through data science," Dr. Oliver said. "This breakthrough research initiative makes way for us, and the next generation of HBCU researchers and data scientists, to insist on an equity perspective by leading discussion on research questions, design, implementation and interpretation."
Phillip Wallace, UNCF ICB director of knowledge management, spoke about what the success of Leveraging Big Data to Achieve Equity means as UNCF prepares for a new role as a leader of an advisory board that will help inform the direction of the Value Data Collaborative, a nationwide initiative designed to provide an empirical basis for understanding the return on investment of postsecondary education, particularly by race/ethnicity, income and gender.
"HBCUs and other minority serving institutions will be called upon for their expertise to shape the ongoing work of the collaborative," Wallace said. "Both efforts [Leveraging Big Data to Achieve Equity and the Value Data Collaborative] help ensure that research and evaluation in higher education and workforce systems equitably include institutions and faculty that are often excluded from higher education's key research and evaluation priorities—in spite of their scholarship, experience and subject-matter expertise."
"Deepening HBCU capacity to access and leverage big data is a critical piece of UNCF's ongoing efforts to help these storied institutions continue to evolve and transform to meet the ever-changing needs of their students, and to confront head-on the educational inequity still found in this country," Wallace said. "I want to thank everyone who helped make this initiative a success, including former UNCF team members Dr. Deshawn Preston, Dr. Michelle McNulty and Dr. Wil Lucas."
The culminating convening will include presentations from institutional representatives and key leaders from UNCF, Excelencia in Education, Coleridge Initiative and the Institute for Higher Education Policy (IHEP). UNCF plans to announce further details about its strategy to deepen the capacity of Black colleges to influence decision-making on the use of data in driving higher education assessment and transformation. UNCF is excited to continue its engagement with the development of an equity-focused advisory group to help shape the Value Data Collaborative.
###
About UNCF
UNCF (United Negro College Fund) is the nation's largest and most effective minority education organization. To serve youth, the community and the nation, UNCF supports students' education and development through scholarships and other programs, supports and strengthens its 37 member colleges and universities, and advocates for the importance of minority education and college readiness. While totaling only 3% of all colleges and universities, UNCF institutions and other historically Black colleges and universities are highly effective, awarding 15% of bachelor's degrees, 5% of master's degrees, 10% of doctoral degrees and 19% of all STEM degrees earned by Black students in higher education. UNCF administers more than 400 programs, including scholarship, internship and fellowship, mentoring, summer enrichment, and curriculum and faculty development programs. Today, UNCF supports more than 60,000 students at over 1,100 colleges and universities across the country. Its logo features the UNCF torch of leadership in education and its widely recognized trademark, "A mind is a terrible thing to waste."® Learn more at UNCF.org or for continuous updates and news, follow UNCF on Twitter at @UNCF.
About UNCF ICB
UNCF INSTITUTE FOR CAPACITY BUILDING partners with Black colleges and universities to propel student success, community advancement and the fight for racial-justice equity. Each year, ICB organizes the UNCF UNITE summit, the premier platform and largest gathering of Black higher education. Learn more at uncficb.org and follow us on Twitter, Instagram and LinkedIn at @UNCFICB.
About Excelencia in Education
Excelencia in Education accelerates Latino student success in higher education by promoting Latino student achievement, conducting analysis to inform educational policies, and advancing institutional practices while collaborating with those committed and ready to meet our mission. Launched in 2004 in the nation's capital, Excelencia is building a network of results-oriented educators and policymakers to address the U.S. economy's need for a highly educated workforce and engaged civic leadership. For more information, visit: www.EdExcelencia.org.
About Coleridge Initiative
The Coleridge Initiative is a not-for-profit organization, originally established at New York University, which became fully independent in August 2020. Coleridge is at the forefront of transforming the empirical foundation of social science research and policymaking in the United States. Their work on building new technologies is combined with training programs and consulting services that help build agency capacity to better serve society. The Coleridge Initiative works with government agencies to break down the barriers to accessing confidential data. They manage a secure computational research platform, the Administrative Data Research Facility (ADRF), to provide access to sensitive and confidential microdata. Since the organization was founded, they have worked with over 250 federal, state, and local agencies and trained almost 1,000 agency staff. For more information on Coleridge, the ADRF, training programs, and events, visit: www.coleridgeInitiative.org.
About the Institute for Higher Education Policy (IHEP)
The Institute for Higher Education Policy (IHEP) is a nonpartisan, nonprofit research, policy, and advocacy organization committed to promoting postsecondary access and success for all students, regardless of race, background, or circumstance. Established in 1993, IHEP provides timely, evidence-based, and student-centered research to inform policy decisions and address our nation's most pressing education challenges. For more information, visit: www.ihep.org.